(New York City) — A Kentucky District Superintendent who sees herself as a "bridge-builder" and "cultural-shifter," has joined the staff of The United Methodist Council of Bishops' Office of Christian Unity and Interreligious Relationships (OCUIR) with offices here.

As Associate Ecumenical Staff Officer, the Rev. Jean Hawxhurst will focus on developing a network of ecumenical leaders across the denomination to live out Christ's vision of unity in the world.

"Jean has a solid sense of the unique gifts and graces the United Methodist Church brings to the ecumenical and interreligious table," said the Rev. Stephen Sidorak, ecumenical staff officer for the OCUIR. "She's a student of all things ecumenical and interreligious and we look forward to her significant contribution to The United Methodist Church and beyond in mentoring a new generation of ecumenical and interreligious leaders."

Read more...
By Sarah McKinney


"A glimpse of heaven!" is how Rev. Olaf van de Klashorst's described the ecumenical gathering on Sunday, January 25, 2015. Three churches within 4 miles of each other gathered to praise God together.


Pastor Olaf serves Mount Bethel Evangelical Covenant Church on Highway 65 in Rockingham County, North Carolina. Mount Bethel hosted a celebration for the Week of Prayer for Christian Unity. Also participating was Glencoe United Methodist Church served by the Rev. Dr. Edward McKinney and Liberty Wesleyan Church served by the Rev. Danny Janes.
Read more...
The week of Christian Unity became real in tangible and spiritual ways on Jan. 25, at the National Cathedral in Washington D.C. when Christ set the banquet table and the Rev. Canon Gina Campbell served Communion to the people of God in both the United Methodist and Episcopal churches.


Her actions in the sanctuary were hailed by leaders of both denominations as "historic" as she brought the Interim Eucharistic Sharing Agreement to life in a way that "significantly deepens the expression and practice of Christian unity," said Bishop Marcus Matthews of the Baltimore-Washington Conference of The United Methodist Church. (Read more ... )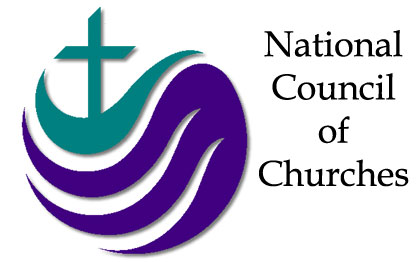 The 2015 Christian Unity Gathering will be held May 7-9, outside of Washington, DC at the Hilton Washington Dulles International Airport. This year's gathering will continue to focus on Mass Incarceration as well as spend significant time examining Interfaith Relations with an emphasis on Peace. In addition, there will be a special service of commemeration for the 100th Anniversary of the Armenian Genocide held at the Washington National Cathedral. This service will include visitors from around the world and from many levels of government as well.
More details about the gathering including schedule can be found on the NCC website at http://www.nationalcouncilofchurches.us/events/CUG2015.php
<< Start
< Prev
1
2
3
4
5
6
7
8
9
10
Next >
End >>
Results 7 - 12 of 82